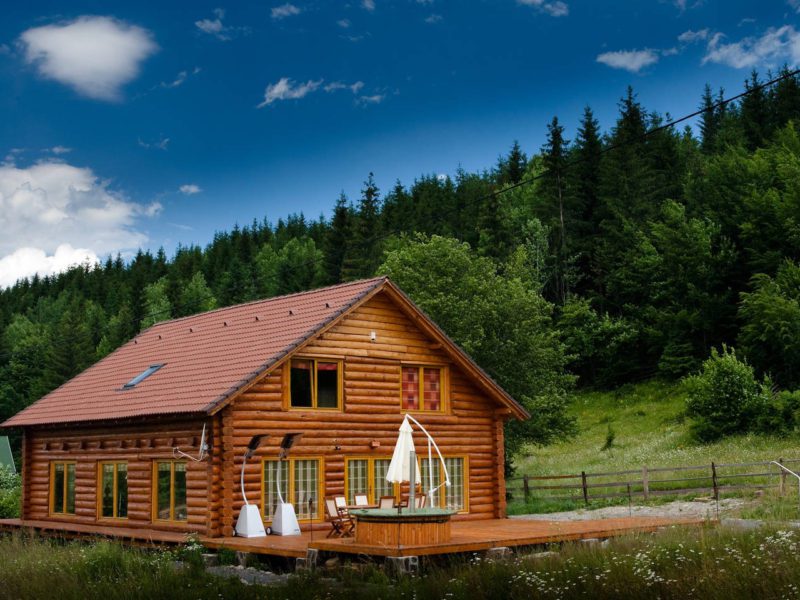 Seven months ago, my wife and I bought a log cabin in Transylvania.
That part of Romania is both magical and uncorrupted by the metronomic march of globalisation. You're more likely to see a pack of wolves than a pack of sunburnt Daily Express readers ordering gut-buster breakfasts and a round of beers.
Because of this, it's not amazingly easy to get to. From Transylvania Airport, it's a meandering two hour drive into the wilderness – past ancient salt mines and Gothic hilltop castles, through endless forests and gypsy villages towards the foothills of the breath-taking Carpathian mountains. But once you're up there, where the air is rarefied, you'll wonder if you'll ever visit another Spanish seaside town.
The upside to the isolation is that the chalet was really cheap – around £70,000 at January's exchange rate for four double bedrooms, three bathrooms, over half an acre of gardens and an outdoor hot tub. (Shameless plug: you can rent Chalet Motzi on Airbnb).
Ah, January's exchange rate. We need to talk about that.
Because if my wife and I had bought the house now…well, we wouldn't have bought it now. The pound has tanked and it would have cost about £15,000 more.
Brexit happened.
Nonetheless, to my mind, it's still probably far easier to buy a holiday home than you'd think. We're not loaded. In fact, we borrowed the £70,000 from a bank. And if you look off the beaten track, you'll find somewhere great and greatly cheap.
We found Chalet Motzi (named after a friendly local dog) on Rightmove Overseas while fantasising non-seriously about buying a property abroad on a dark drizzly evening. You can set a budget, say 80,000 euros, and Rightmove will show you what's available across Europe.
But, if you want to join the estimated 1.2 million Brits with homes in the EU, you'll need to know how Brexit has made this whole process harder, especially if this has been your dream for some time. So here's what's changed since 52% of us (not me!) voted to leave the EU:
The plunging, plummeting pound. This is, so far, the number one consideration and will affect people looking for property anywhere in the world, not just the EU. Many believed Sterling was already over-priced and confidence in our currency has certainly been shaken by Brexit. What this means in the real world is that our pound just doesn't buy as much as it used to. Its value fell from 1.30 euros before the vote to as low as 1.16 in the days that followed and is still languishing somewhere around 1.18. The more the pound falls against foreign currencies, the more expensive a foreign home is likely to be.
Uncertainty around transport links. Many believe Brexit will lead to a downturn in the UK economy. When this has happened in the past, budget airlines have cut flights from the UK to small regional airports in the EU and elsewhere. So when you're choosing a home, it's a good idea to pick somewhere near an established airport – one with more than one airline, if possible. Transylvania Airport is served by Wizz Air, which flies from Luton in the UK. It's small and looks at risk if Wizz Air, a Hungarian company, goes belly-up. That said, this looks unlikely at the moment. There are also five or six airports that are a little further from Chalet Motzi than Transylvania Airport but not disastrously so. Another consideration is that airlines that have grown partly on the back of big flows of people to and from the UK for work reasons – from places like Romania and Poland – could also be at risk if the rights of EU citizens to work in the UK are curbed. Again, it looks a bit worrying from where I'm standing. Gulp.
Finally, the legal stuff. There is – to put it bluntly – no guarantee that your rights relating to buying EU property will not change. Before Romania joined the EU in 2007, you had to be Romanian to own land. When it joined the EU, you had to be an EU citizen to own land. It could be that in three years, my wife and I will no longer be EU citizens. You can't see me right now but I'm gulping again. So, the best advice is to check the local law very carefully before you make an offer on a property. Capital gains tax from sales and rental earnings tax are different in different EU nations – so you should really do this anyway, Brexit or not. Make sure you use independent lawyers and never sign any official documents in a foreign language – always get them translated.
Most of all – don't be put off. There were Brits in log cabins in Transylvania before the EU was invented and we'll be there a long time when or if we leave.