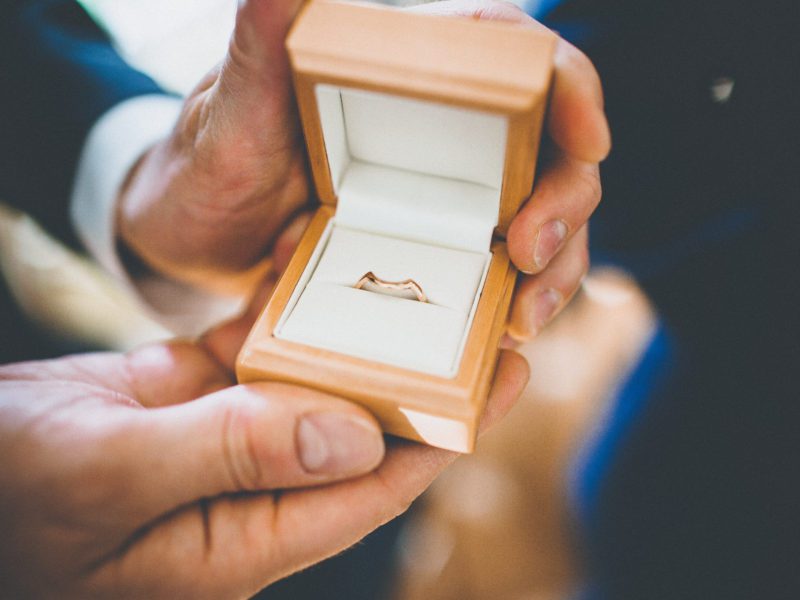 Yes, yes, I know you want an enormous golden pumpkin as your wedding carriage. And the original ruby slippers from the Wizard of Oz. And a wedding breakfast of saffron-topped Wagyu beef, served with Matsasuke mushrooms and Beluga caviar followed by civit bean coffee. And…and…
STOP! YOU CANNOT AFFORD IT!
Nor can I. Nor could the Sultan of Brunei, for that matter.
Happily, we've just had a chat with the lovely HELEN DANIEL, who married dashing, delectable Tom in May of last year and whose tips for budget-friendly nuptials blew our soppy, sentimental minds! So here are those golden nuggets. Oh, and don't forget to look at Helen's beautiful pics of the wonderful day in the gallery above.
Helen hired a jukebox which was half the price of a DJ (probably a bit more open to requests too) and wasn't picked up by the hire company until the morning. So the happy couple and their family and friends were able to party the night away. It even came with lights! There are loads of jukebox hire companies out there and, happily, Mr Google knows almost all of them.
This is a great tip. The happy couple bought wedding rings off the internet – bet you hadn't thought of that! Again, this saved them a fair whack, particularly as Helen needed a shaped ring to fit her engagement ring.
A bit of creativity can really cut down on costs. Helen made all the 'save the date' cards and wedding invites herself. Smart move, huh? (She insists on a hat tip to her sister, Jenny, who helped…a little bit.)
With more help from family, the seating plan was drafted while Helen went to do arguably the most important job – buying alcohol. Tom and Helen are film buffs so all the tables were named after films and the pictures showed the 'paths' of the film characters. Who needs a planner to come up with a quirky idea?
Wedding favours were also film-themed. Helen bought movie books from 1980s and 1970s from Amazon and cut up pictures to make over 90 individual bags. In a lovely, personal touch they were tailored to her guest's favourite films. Inside, with some help (thanks, Mum!), she added local shortbread wrapped up using wrapping from Amazon. Now THAT sounds tasty. Mmmm!
Family friends were in charge of the teacup flowers. Helen first bought dozens of cups and saucers from charity shops and borrowed what she couldn't buy. There's a helluva lot of the "something old, something new" tradition covered right there. Flowers from people's gardens were added to a florist's arrangements to keep costs right down. Starting to wish I'd been invited!
And, now the pièce de résistance ( everyone gasps!). Yes, the wedding cake! Helen picked this up from M&S and added brooches that had belonged to her grandma. The cheese wedding cake was also from M&S and Helen and Tom added grapes and bought their own pickles and crackers. What champion savers!
Now, this is sweet. The couple bought confectionary in bulk at Macro and ordered sweetie jars, tongs and sweetie bags from Amazon. Okay, I'll stop with the jokes.
As a teacher, you've probably got lots of little helpers – and this was certainly a bonus in Helen's case. Children at her school made gifts with the nursery kids collecting stones and using glitter glue to decorate them in the wedding colour theme (blue) with 'romantic' words. Helen and Tom used these as decorations. Bunting was also homemade (not by Helen, she tells us!) and borrowed from her mum's friend. It also went with her colour theme.
So put your Coutts cheque book down, put away that Harvey Nichols catalogue and have a serious re-think. Because, as Helen has shown, if you are lucky enough to have found real love, then you are already rich!
All pics by Matt Horan Photography.