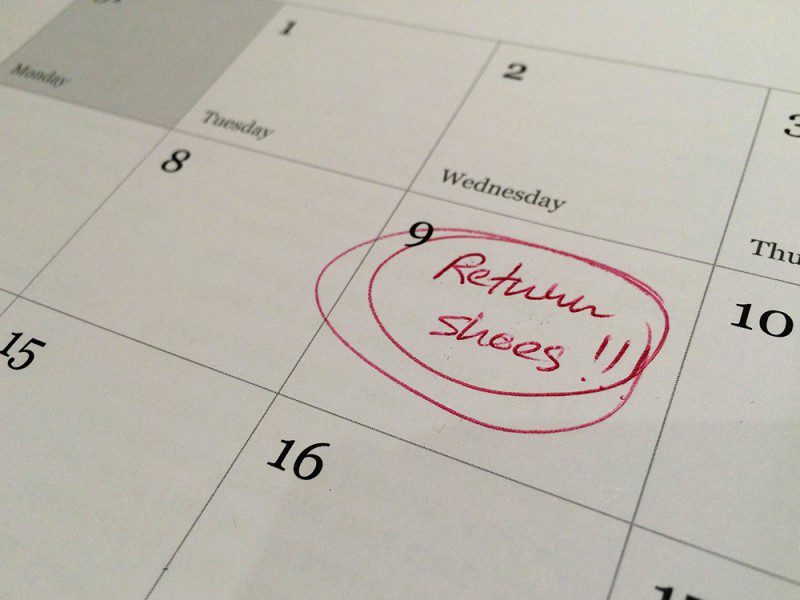 Here's a confession. I have never been one of those people. I insist on trying things on, while some of my friends would just pick up an item and say they can always return it later.
I have returned two things in my life. One: shoes that turned out to be uncomfortable as I tried wearing them around the house. Two: a dress ordered online in a 'medium' that turned out more like an 'extra large'.
Everything else I have kept. I don't buy things with the intention of returning them later. I will end up shoving them under my bed and never getting round to it. And when I'm yet again moving from one rental to another, my boyfriend will stare at those low-cut armpit crop tops I got at an Urban Outfitters sale in 2010 (they were only a tenner – see my "life lessons on sales") and say: 'What the [insert expletive] is that and when would you ever wear it?'
The easiest returns policy is not to buy the questionable item in the first place.
To which I would respond that I would definitely wear it if I was 11 pounds lighter and going to a jokey sports-themed dress-up party. You know, those kinds of things people have all the time, right?
So, the easiest returns policy is not to buy the questionable item in the first place. But we all make mistakes every once in a while. Here are some things to keep in mind when you do have to take the goodies back.
Shops must offer a full refund if an item is faulty, not as described or doesn't do what it's supposed to do. These rights apply regardless whether the item was bought at full price or in a sale.
However, retailers don't have to issue a refund if:
The buyer knew an item was faulty when they bought it;
They damaged an item by trying to repair it themselves or getting someone else to do it;
They no longer want an item, unless they bought it without seeing it. (For online sales, you have a right to return something if it doesn't quite look right within 14 calendar days, and refunds must be paid within 14 calendar days after the return of the goods.)
So when you're at a sale and the sales assistant says: 'No refunds on sale items,' they mean it. Obvious faults – loose seams, dodgy stains or missing buttons – are often the reason why the product was reduced in the first place. You have been warned.
If you bought something in person and it is not faulty, but you have changed your mind or picked the wrong size, a shop doesn't have to offer a refund unless they have a published returns policy – then it's a contractual condition of sale.
If you've lost the receipt – and are seeking a refund for a faulty item – any proof of purchase, such as a bank statement, should suffice. If you're simply returning something because the store's policy allows it, you may need the original receipt. Better read the small print (and keep it).