I arrive at Victoria sweating like a Good Morning Britain producer after Richard Madeley's done a 6am swear and then gone full Partridge while conducting an interview with a woman's breasts. After half an hour on the underground I'm hot enough to sauté scallops under my armpits, and at this point it occurs to me that a potential drawback of bring-your-own-bottle is arriving at at the restaurant with wine that's practically bathwater-warm.
Meeting my mother inside the station, I voice my concern that our Brut could serve as a hot water bottle. "Ri-ight?" says my mother in a tone that suggests she's wondering what my point is. I pause to give her time to grasp it, but it turns out she doesn't care. "I don't mind a warm wine, it's never bothered me," she shrugs.
So, after deciding that I've perhaps attached undue importance to the temperature of wine, we make our way to Grumbles, Pimlico's secret celebrity retreat where Princess Diana, Julie Christie and Tom Jones have all reportedly parked their bottoms.
As my mother chooses tiger prawns followed by a steak, and I order escargot with a main of Thai-style duck breast, it crosses my mind that perhaps I should have looked at the menu online before bringing a bottle of sparkling white wine. But hey, why be a slave to inane wine etiquette? Plunged into an ice-bucket on our arrival, our Cremant de Limoux is jolly nice – isn't it mum? "It's… sparkly," says my mother in a manner that implies she's expecting a George Cross for drinking it.
Proprietor Alex Turnbull shows us round after we've eaten, pointing out an alcove where the Social Democrat Party held secret meetings. It's tucked away on the lower ground floor and it comes as no surprise when Alex tells us that Grumbles is a regular haunt for MPs popping over from Westminster – although he doesn't reveal whether they bring their own bottles!
Over in North London, I visit Shishlique, a kebab establishment that offers BYOB every night of the week with no corkage. After a starter of olives, stuffed vine leaves and houmous, I share a platter of chicken and lamb kofta, doner and shish with my school friend Nicola who's brought a bottle of Sauvignon Blanc.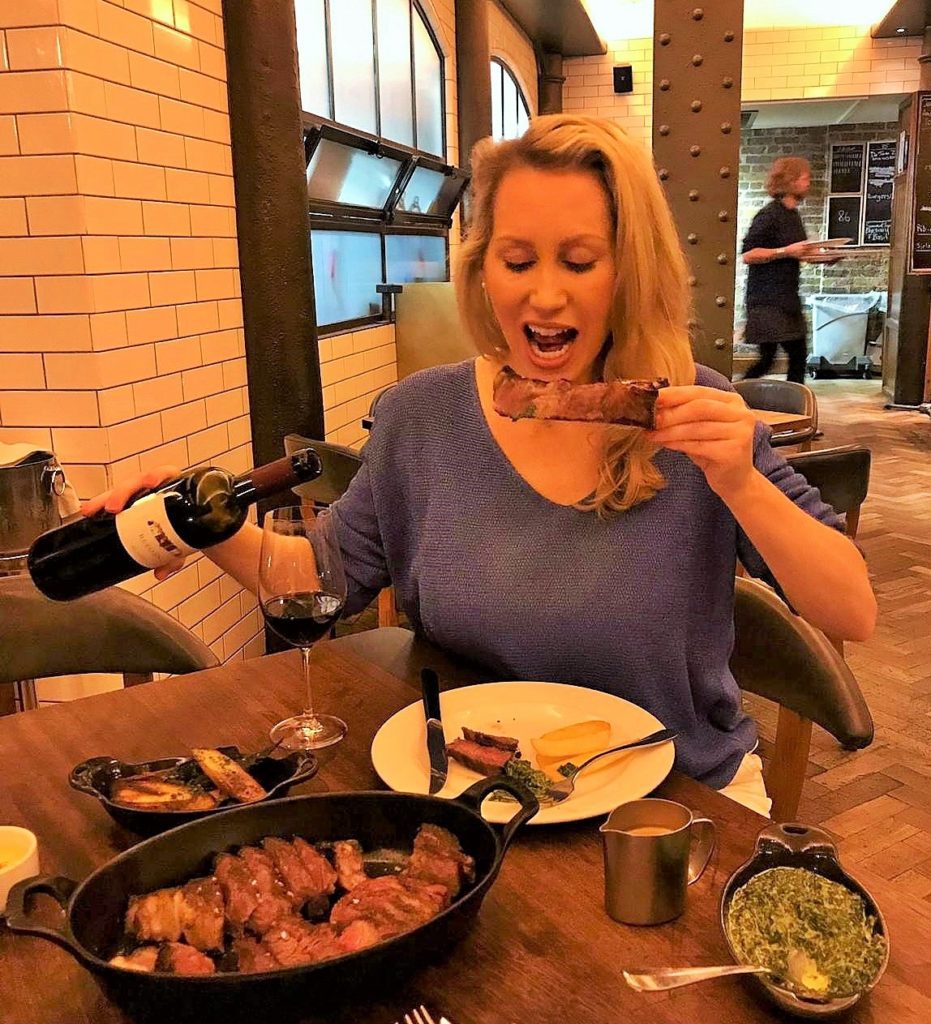 I have a tendency to cave to other people's preferences, so if we'd been ordering off a wine menu I would have agreed to share a bottle of white when really I wanted red. But, as we're bringing our own (which we can take back home again!) there's no need to share, so I arrive with a three-litre bumper box of red. It's dreadful stuff, but the never-ending boxy abundance alleviates my FORO (Fear of Running Out) which is essential when dining in an establishment that doesn't serve alcohol.
There is also the joy of making wine come out of a little tap, which never ceases to delight me. And of course, if you're on a budget, wine by the box gives you more booze for your buck. So, if you can bear drinking wine that tastes like nail varnish remover with a hint of crotch rot, I urge you to buy wine by the box!
But would my gauche drinking habits cause a stir at this Kensal Green kebab house? I am happy to report that nobody bat an eyelid when I got my box out, and they were even kind enough to wrap up our leftovers, which provided me with enough fodder for an all-I-could-eat meaty buffet at home the following day.
Award-winning steak house Hawksmoor, which has received high praise from critics, might be deemed the piece de resistance of my bijoux BYOB resto tour. However, I unwisely book it for Easter Monday, and roll in already stuffed after a weekend of eating Easter eggs in Wiltshire.
My companion, Pauly-Pops, has spent the weekend in Brighton on a similarly sickly diet, and he's forgotten he's meeting me for dinner. "Where is it again? I've literally just got in – it's lucky we left the beach when we did!"
And so it's in this ill-prepared state that we skip the starter and share a porterhouse steak with spinach, carrots and triple cooked chips. I've brought a bottle of Refosk (a full-bodied Bordon red) from Twisted Cellar which I fully expect we'll stampede through before destroying the wine list.
I ask our waiter, Ed, if many people bring their own bottle to Hawksmoor. He tells me that the couple who were seated at our table before us brought five bottles between them
Unfortunately, our stomach-stretching, liver-vandalising weekends mean we only just make it through the rather pleasant Refosk, and I can't even finish the sticky toffee pudding (which I whole-heartedly recommend).
I ask our waiter, Ed, if many people bring their own bottle to Hawksmoor. He tells me that the couple who were seated at our table before us brought five bottles between them, including a dessert wine. He also points to a table a few feet away where a group of friends are making one of their monthly visits, and apparently they routinely hand over half a dozen bottles on arrival. "The £5 corkage on a Monday makes it much more affordable," says Ed, who adds that BYOB is available on other nights for a £25 corkage.
If you like a nice bottle of wine (or six) it's definitely worth seeing if you can bring your own to dinner. But is it just a little bit naff? I ask a doyen of the wine trade who's probably advised Prince Philip on what to pair with posh-person food. He assures me: "I think it's an excellent idea!"
So here's what I wish I'd known earlier (aka Alex Turnbull's Top Tips):
Always look at the menu online and decide what you want to eat – then you'll know which wine will work best with your food.
If you're bringing a white, make sure you chill it first or buy it already chilled. The wine will keep its temperature longer than you'd think –especially if your wrap it properly.
Hand over your wine on arrival – white wine can go straight in an ice-bucket if necessary!