Eat lentil bites and listen to BBC Radio 6: A guide to working from home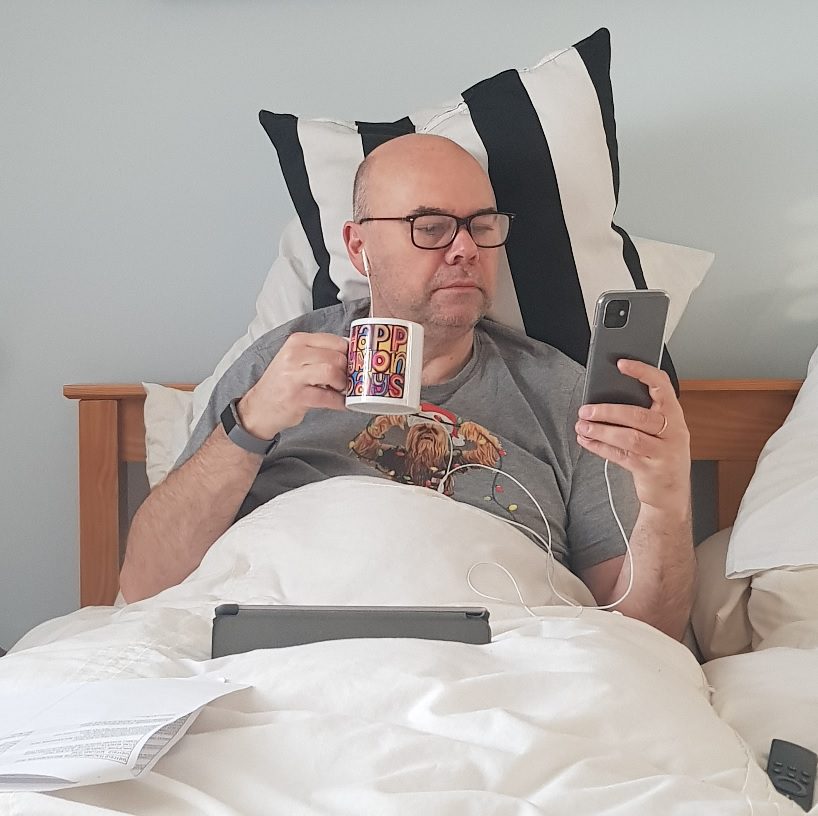 For those of us lucky enough to be able to work from home during the current lockdown, you'd be forgiven for thinking that our work life balance had suddenly got immeasurably better. A 30 second commute, tea and coffee on tap, dress down day every day. What's not to love?
But for people used to the sanctuary of the office and the ability to escape work by "going home", the reality of working on the kitchen table surrounded by partners, pets and screaming kids can be a bit of a shock.
I've been working from home on and off for over a decade now and have elevated it to a bit of an artform. Here are my tips on getting through the day, but please don't @ me if they don't work for you
1. Check your emails and social feeds in bed: It gets me up to speed quickly and eases me into the day nicely. It's especially good with a cup of tea and BBC Breakfast burbling in the background.
2. Listen to Lauren Laverne on BBC Radio 6 Music: This show is worth the licence fee alone. A proper community spirit to start my day, with an eclectic music choice that makes me feel like I'm 16 again. But without a moped. Also, Spotify is a must have.
3. Do your writing and thinking in the morning: I regularly start work at 7am in my Jim-Jams and then plough on through until late morning. When the muse strikes, you need to go with it and not disrupt the flow with trivial things like showering. Also, good if you're doing intermittent fasting. Which I'm not, BTW.
4. Have designated laundry days: I love doing the washing (honestly) so I don't splurge it all on Monday morning. I have designated days to look forward to (Wednesday for darks and Friday for lights, since you're asking). My favourite part of laundry is the Tetris like arranging of wet clothes on the airer.
5. Stop for lunch at 12.55: That way I catch the last five minutes of Bargain Hunt before the BBC News at 1pm. Any more than five minutes of Bargain Hunt is dangerous. I always make sure I'm back at my desk before Doctors begins. I'm not a student.
6. Stock up on low carb, carby snacks: Chocolate is my snack of choice, but working from home risks me consuming my bodyweight in Galaxy, before moving on to cheaper "supermarket" chocolate. Instead I go for Aldi's hummus and lentil bites – they have a decent carby hit, but taste enough like cardboard for one packet to suffice, at only around 100 calories.
7. Work for as long as you want to: Potentially controversial – and of course you need to know when to switch off and separate work from home – but if I'm on a roll and cranking out the work, I'll often be sitting at my desk gone 6pm. Having said that, if the tank starts to run empty earlier, then I definitely call it a day.
8. My final tip – ignore all of the above: This works for me. We all have different personal circumstances – juggling kids and family demands; and different mindsets – 5am yoga and dressing to impress from your home office. But this is still unchartered territory for many people, so do whatever it takes to get you through the day! And #StaySafe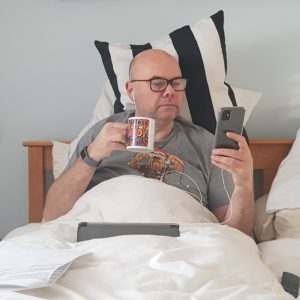 Mouthy Blogger
Paul has had a long and varied career in journalism, public relations and social media, mostly talking about money. He has a collection of over a thousand vinyl records that is worth "literally nothing".