Ethical Christmas gifts: kind on the wallet and the conscience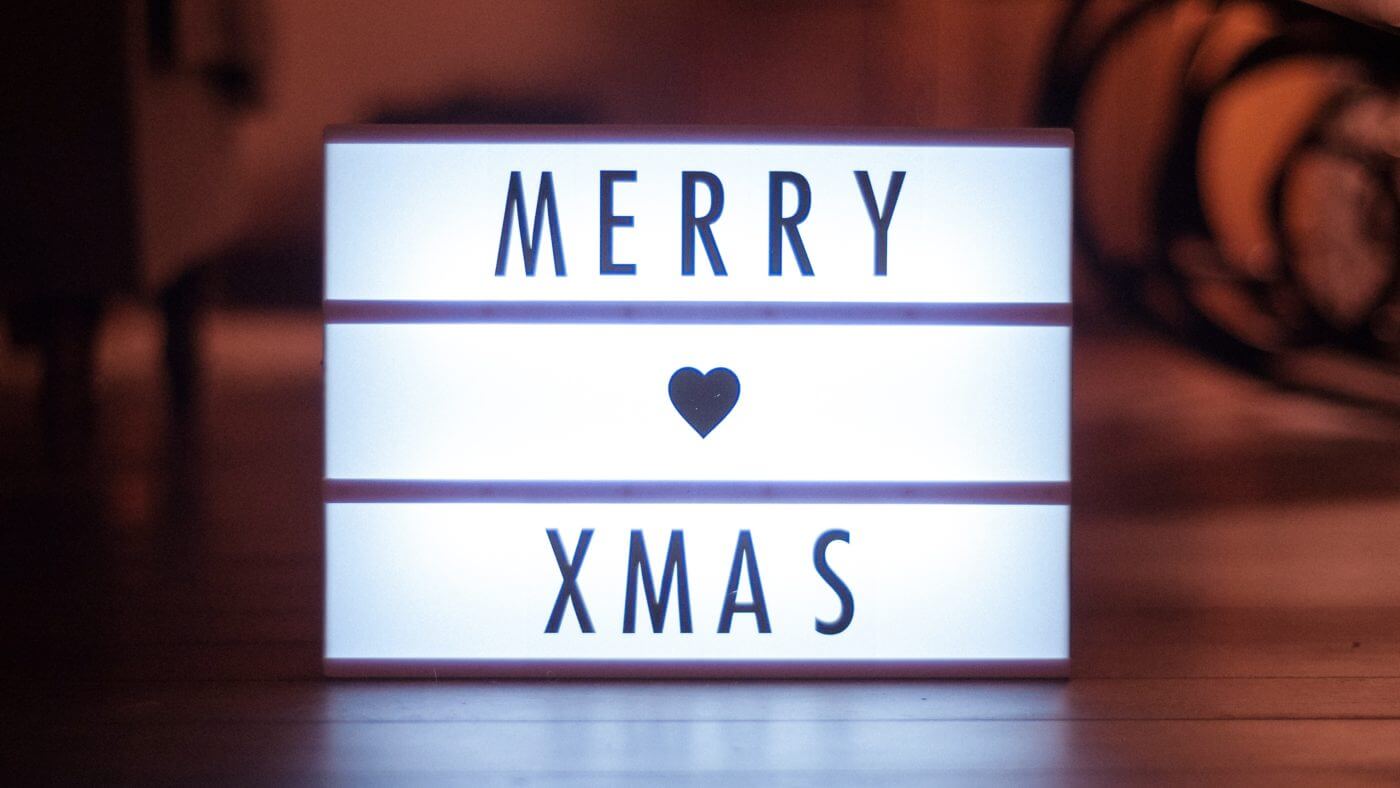 Christmas is right around the corner and, for some people (those less organised than me), that means a last minute trolley dash to find presents for their nearest and dearest. Christmas also carries with it two conflicting messages: one is the spirit of generosity and giving, and the other is of excess (over spending, over eating, over indulging in the booze, etc.). I thought it might be interesting to see where, online, you could find ethical gifts to suit every budget – to ease both your conscience and your bank balance.
Please Note: I'm not affiliated with any of the products listed below – I just found them and wanted to share.
Fairtrade Chocolate (prices range from about £1+)
Who doesn't love some chocolate in their stocking, right? You can help Santa out by picking up some fairtrade chocolate (like Divine, Green and Black's, Ethical Exchange, and Traidcraft) from most supermarkets. Fairtrade deals mean that cocoa farming can be sustainable and the farmers are paid guaranteed minimum prices for their crops. Many own supermarket brands have a fairtrade option, so look out for the fairtrade symbol on packets. You can also get some delicious flavours like Lemon and Ginger with black pepper, Mango and Coconut, and (my mum's favourite) 85% – Very Dark!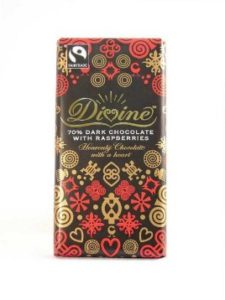 Zombie Fresh Mints (£4.00)
These mints come in a very cool tin that would look great on a desk once the mints have been devoured. The mints claim to 'banish brain breath' (anyone who watches The Walking Dead will know how stinky zombies can get!), and the money helps the children's charity The Ministry of Stories – a volunteer organisation that helps children build their confidence through creative writing. They're branded under the label Hoxton Street Monsters who do a wide range of horrible sounding treats, but the Zombie mints topped my list!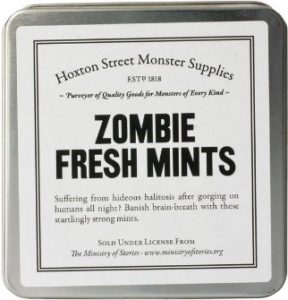 Recycled Rambling Rose Shopping Bag (£4.95)
Now that we have to pay 5p for every rubbish plastic bag, shopping bags have become a cool fashion accessory. I love this one by Natural Collection Select because its reminiscent of Cath Kidson's cut florals and is made of recycled plastic bottles. Reviews suggest it's also nice and strong, so it would be great for transporting home loads of sale shopping!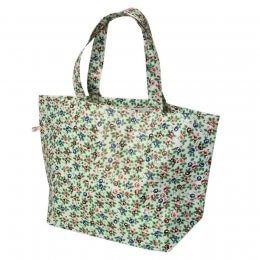 Charity Wish List (starts from about £5)
Loads of charities have started doing this now, and it's a brilliant way of donating to a good cause. You donate the money in the other person's name, and they get a card telling them what you've 'paid for'. There are too many examples to list, but some of my favourites are: Centrepoint's £10 More Than a Christmas Dinner for a homeless young person; Oxfam Unwrapped's £12 Girl Power, providing training and education opportunities for women; and Save the Children's £12 Birth Kit for a Midwife, ensuring more babies enter the world safely.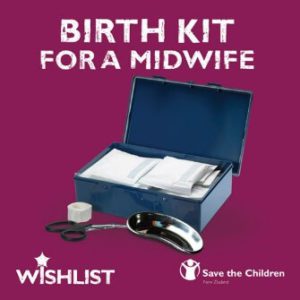 Home Front Make Do and Mend Sewing Kit (£14.95)
This would be a fab present for anyone who loves sewing and 1940s vintage. The tin is inspired by war time posters, and the kit contains thread, pins, needles, scissors, a seam ripper, and a tape measure. There is also a Dig For Victory Allotment Set, which is a pretty cool present for gardeners. A percentage of the profits from both gifts goes to the Royal British Legion, who work to support the Armed Forces community.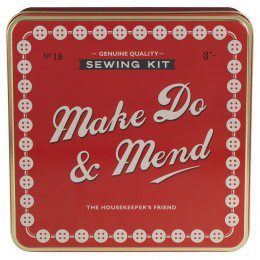 Pacifica Roll On Perfume – Persian Rose (£12.00 for 10ml)
Pacifica are one of the leading brands for ethical fragrances and toiletries. This gift stood out to me because I love rose scented things. They do a range of body lotions, bath products, makeup, and candles. All the products are cruelty free, suitable for vegans, use recycled packaging, and are produced with a minimal carbon footprint. Pacifica also supports various charities within the USA, including women's shelters.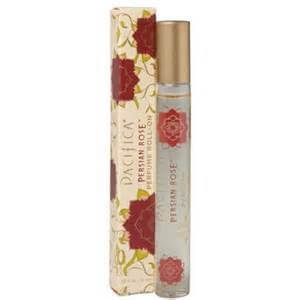 Made Mini Crescent Stud Earrings (£25.00)
Made has a lovely selection of jewellery which is handmade in Kenya. The company invests in the talented artisans who work there, ensuring that they have a safe working environment, job security, and are paid a fair wage. They also use sustainable materials to ensure that the environment is not damaged while the items are being produced.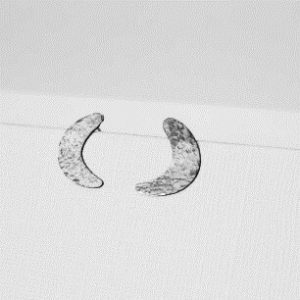 Sponsor an Animal (from about £15)
Ideal for someone who loves animals, particularly more exotic and endangered ones. Most packs include information abut the adopted animal, a certificate, updates about what your money is doing, and some include a toy version of the animal (which is considerably easier to look after than a real one!). There are adoption packs to suit anyone's taste in animals – my top picks include: Durrell Wildlife Park's Blue Poison Frog; Llama Karma Kafe's Llamas; Guide Dogs Sponsor a Puppy; and WWF's Adopt a Penguin.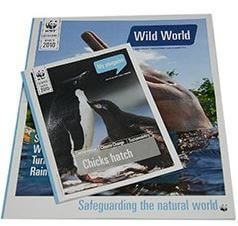 The FMLY Store Human Tshirt (£30)
The FMLY Store donates a portion of its profits to a number of different charities, including Mothers2Mothers, Kids, Stand Up To Cancer, StarLight, and WaterAid. In fact, there are too many to name, but please do check the full list here. The Human tshirt carries a £10 donation to The Refugee Council, and all of their Christmas jumpers include a 50% donation to Save the Children.
Of course, if you want a more pot luck approach to Christmas shopping, you can always hit up a charity shop on the local high street, where there are sure to be lots of bargains. Merry Christmas!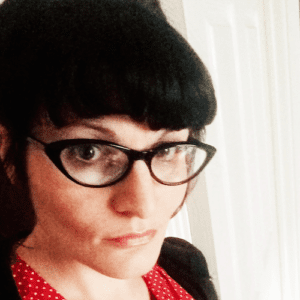 Uber-geek and tv addict. Keen writer and professional trainer in the financial sector. Rubbish at maths