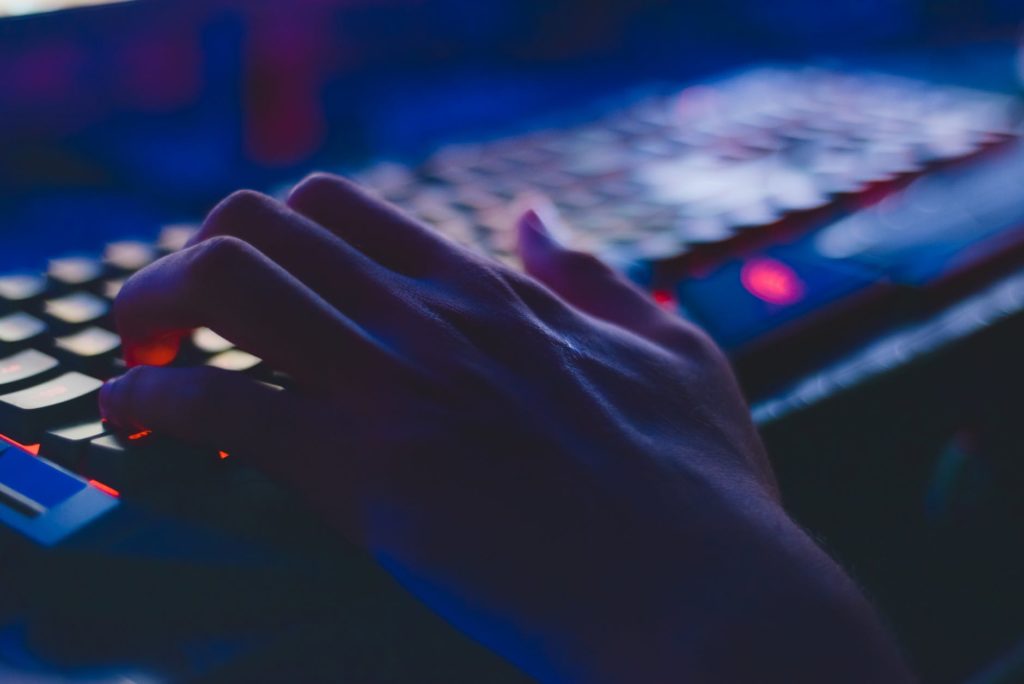 Blogger Paul Beadle received an email from the HMRC telling him he was due a tax refund. But was it legit?
After a 2020 to forget, a tax refund windful of more than £1,200 was just what I needed. Result! But of course, it was a scam.
Working on the basis that, 'if it looks too good to be true, then it probably is', I was suspicious from the start. I'm also pretty good with my finances and, because I am in a full-time job paid through PAYE, I know that my income is stable and unlikely to trigger a refund caused by overpaying my taxes.
I'd also not heard any news of the Chancellor or the taxman showering us with cash because it's been such a rotten year.
However, tax is devilishly complicated and earlier in the summer I received a legitimate email from the HMRC informing me that my tax code had changed. So, for a moment, a bit of my brain told me that my new tax code was incorrect, I had been overpaying tax and I was due a refund.
Still now, having read all the info supplied by the HMRC about their decision, I have no idea why my tax code – which essentially tells your employer how much tax you should pay – has changed.
The tell-tale sign of fake emails and texts
And the fake email I received was fairly well done. But there were some tell-tale signs it was dodgy, if you know what to look for.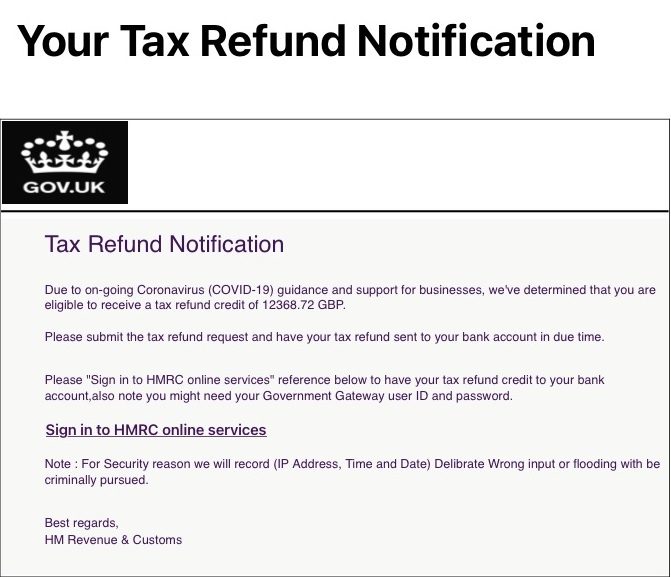 It was addressed to "Recipients" rather than directly to my email address
There was nothing personalising it to me: it didn't include my name, address, national insurance number, tax code or taxpayer reference
It actually referred to support for businesses due to COVID-19 and I don't run a business
The Gov.uk logo had clearly been stretched using photo-editing software
The email urged me to click on a link and provide various data to receive a refund straight into my bank account – information the scammers would use to try and steal my money.
Scams are increasing during the pandemic
This wasn't the first phishing email I have received this year, as scammers seem to be increasing their activity during the pandemic. More than a third of Brits said they were targeted by criminals during the first national lockdown, according to research by Citizens Advice.
If that wasn't bad enough, Citizens Advice also found that scammers were trying to trick the most vulnerable amongst us. More than half (54%) of those targeted were people who had already lost income due to the virus, while half (50%) were people with an increased risk of catching coronavirus.
Personally, I have received text versions of the tax refund scam, as well as emails reminding me to update my Netflix payment details, even though I don't have a Netflix account.
Other attempted scams currently doing the rounds include fake government emails offering COVID grants of up to £7,500, and even texts pretending to be from NHS Test and Trace, claiming that the recipient had been in contact with someone diagnosed with COVID.
Clicking on any of these messages would take you to a legitimate looking website designed to either trick you into giving away your personal details and banking information, or it would automatically download a virus onto your computer or phone.
Unfortunately, as the pandemic continues and the impact of lockdown measures and restrictions grows, we are likely to see even more of these scams. I'm waiting for the first one offering early access to a vaccine, in return for your credit card details.
It can be difficult to tell the truth from the scams
And with so much disinformation floating around about coronavirus, vaccines and 5G, it's going to be difficult to tell the truth from the conspiracy theories and the scams.
So, it's best to be prepared. In addition to the 'if it looks too good to be true, then it probably is' golden rule, here are my top five tips to stop the scammers.
Never give your private bank or credit card information to anyone, especially if you get a phone call from someone claiming to be your bank. They'd never ask for your PIN or password.
Keep your technology up to date, because the newest version of your banking apps and device operating system will include the latest virus protection.
Use two-factor authentication, especially for banking and payment apps, because even if the scammers have your password, they won't have your One Time Password (OTP).
Check, check and check again, and if you get a suspect email or phone call, check by contacting the bank or organisation directly via the telephone numbers on their official website.
If in doubt, don't do it, don't open any unexpected emails, click on the links or visit a website you're not 100% certain about.
There's also some useful information on how to spot a potential scam and keep your money safe from criminals on the Shawbrook Bank MoneySure site, while the Take Five to Stop Fraud site provides updates on the latest hoaxes and scams.
If you've fallen foul of a scammer, or you're worried about a loved one, then Action Fraud is the place to go to get help and report a crime.