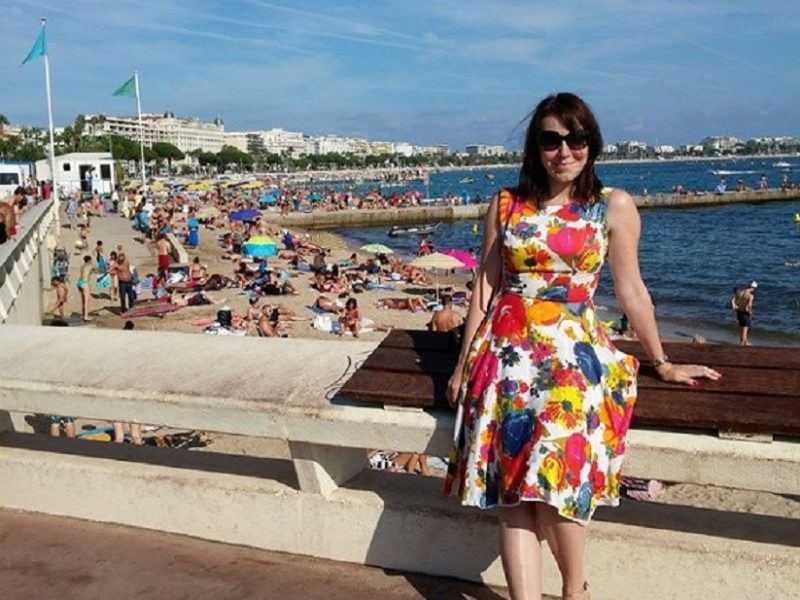 I remember a time when shopping at a second-hand store was a way to save money, but with 'vintage' and 'retro' being such buzzwords, you may now find clothes shopping cheaper on the high street.
That is not to say any used thing is vintage. Shops that purport to selling vintage – when it's just George at Asda dresses from three years ago with labels cut off – should be ashamed of themselves. The general rule is that anything more than 20 years old is vintage. (So anything you or anyone else wore in 1995 is fair game.)
As a child in early 1990s Eastern Europe, where brands were all the rage, I found second-hand shops embarrassing. My mum would drag me there to buy something innocuous to wear around the house, while I would stare at anonymous shoulder-padded, baggy 1980s stuff in horror.
By my late teens, however, I was braving that smell on the lookout for a special item I could somehow turn into a statement piece. I made a multitude of bad decisions, which included dragging home garish-patterned men's shirts and odd-shaped skirts.
Shops that say they're selling vintage when their dresses are just high street dresses from three years ago should be ashamed of themselves.
Thanks to the hoarding habits of my family, we also had a few treasures in store. One was a 1950s style dress with a fitted bodice and flared skirt, patterned with yellow, blue, pink and orange flowers on a white background, with a belt covered in the same material. It was a hand-me-down my mum received from relatives of relatives in the 1970s.
Yet, despite trying it on at 16, I never thought of wearing it. Considering what kind of 'prom' or graduation dresses teenagers wear these days, it would have been entirely appropriate. But it was the beginning of the millennium and everyone was still obsessed with spaghetti-strap silver dresses. Mad Men was five years away and wearing old stuff just wasn't that cool.
When I moved to Edinburgh in the late noughties, vintage had become a thing, albeit a bit niche. I developed a particular love for Armstrongs Vintage Emporium, although the charity shops of Stockbridge were not far behind.
By the time I came to live in London in 2011, the vintage revolution was approaching full swing. Prohibition and the Blitz-themed events brought together hip Londoners and weekends were filled with vintage fairs in town halls. My collection of vintage dresses expanded further, although I now found myself spending increasingly ridiculous amounts on stuff that wasn't in particularly good condition.
I was wearing my old flowery dress at the Henley Regatta in 2013, when I went to wash my hands at the ladies and instead of a mirror was faced with a blonde in the same outfit.
Before either of us could make a sound, a glamorous older lady piped up, telling us not to worry – the same thing had happened to her circa 1958.
Everything is regurgitated in the fashion industry. It's out and then it's in again – and at a higher price.
We both smiled at her politely and eyed each other with suspicion. The blonde's belt was electric blue and shiny and the colours of the flowers seemed a lot brighter.
'Where is your dress from?' I said.
'PhaseEight,' she said, confused.
'Mine is actually vintage,' I announced, a little too proudly. 'Can I touch your dress?'
She looked at me a little strangely, but said yes. (You can look at the dress here.)
It was thin, soft material. There was no lining. I showed her my hem and the sown-in net lining.
She seemed slightly puzzled, but ultimately not that engaged. We smiled and went our separate ways. After all, she had purchased a dress from an upmarket high-street chain and was probably dreading that someone else would be wearing the same thing.
Despite my outrage, I knew something like this could happen. I'd previously purchased a very expensive dress at a Chelsea Town Hall vintage fair. The seller refused bargaining below a certain point, saying she could find plenty of commercial buyers, who would pay that much for the pattern.
And that is the prerogative of the fashion industry. Like a serpent eating its own tail, everything is regurgitated. Things are declared to be OUT, only to be reproduced and sold at a mark-up 20, ten, even merely five years later.
I have worn the dress since as I still believe it's one of the prettiest in my wardrobe. But I pay less attention to overpriced vintage dresses these days. Uniqueness? Better get out the old sewing machine.