How to dine on the cheap using the Eat Out to Help Out scheme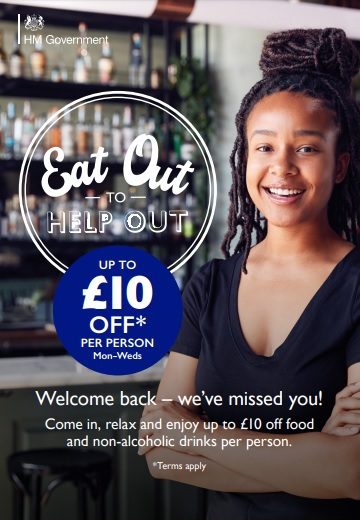 Just when you thought the world couldn't get any odder, from next week the Chancellor – the chap in the government who looks after the country's money – is urging us all to go out and visit our local restaurants, cafes and pubs to enjoy a government backed 50% discount off our dinner. Or lunch.
Terms and conditions apply.
The Eat Out to Help Out scheme, which launches on Monday 3 August, was announced in Chancellor Rishi Sunak's mini Budget a few weeks ago. If you dine at a participating venue, you'll get 50% off your bill for food and non-alcoholic drinks, up to a maximum of £10 per head. But only Monday to Wednesday. The scheme ends on 31 August.
It's all part of the government's plan to get us out and about again after lockdown, supporting those businesses hardest hit by the Covid-19 pandemic. The scheme covers both local outlets and national chains.
If you want to see who's taking part locally to you there's a no frills postcode checker, which rather disconcertingly sits on the taxman's website. As the checker only searches for a two-mile radius of the post code you input, if your favourite eatery is further than two miles from where you live, you'll need to search for the postcode of the individual restaurant or town centre.
There's an equally sparse list of the national chains taking part, which reads a bit like a list of firms who have been caught out for being up to no good (they haven't!). If you're an outlet looking to take part, you can also register on the HMRC website.
My experience is that restaurants are taking social distancing and safety seriously
Some commentators (AKA people on Twitter) have questioned the wisdom of encouraging people to congregate in enclosed spaces while coronavirus remains a threat and the rules around face masks have been tightened. Others have pointed out that Eat Out to Help Out launches at the same time as the government's drive to tackle obesity, which could include banning "buy one, get one free" food promotions and junk food adverts before 9pm.
But the scheme isn't compulsory and because there is a £10 per head limit, eating your bodyweight in pizza or chicken tikka isn't likely to earn you a massive saving. Social distancing is still a concern, but, having ventured out a couple of times in the last few weeks to dine with family, my experience is that restaurants are taking their social distancing obligations and hygiene safety precautions seriously.
In fact, the relaxed atmosphere of a quieter restaurant was more enjoyable, and to be honest it was nice to eat somewhere other than in my living room. So I will definitely be visiting my local Mowgli – I've checked, it's taking part! – in August to do my bit for Eat Out to Help Out. Also, I've really missed their Treacle Tamarind Fries.
If you're not keen on venturing out to eat yet, don't forget you can still get money off restaurant quality food in your own home – so long as you're happy to cook it(!) – with meal kits from companies like Hello Fresh and Gousto. Take a look at my introductory offers blog from a few weeks back.
And if you do take that nice Mr Sunak up on his 50% discount offer, please let us know what your meal was like, either in the comments section below or by emailing us at: editors@mouthymoney.co.uk.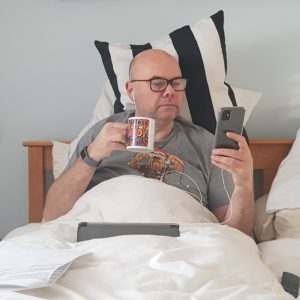 Mouthy Blogger
Paul has had a long and varied career in journalism, public relations and social media, mostly talking about money. He has a collection of over a thousand vinyl records that is worth "literally nothing".