Nadia Nadif: A Brit Abroad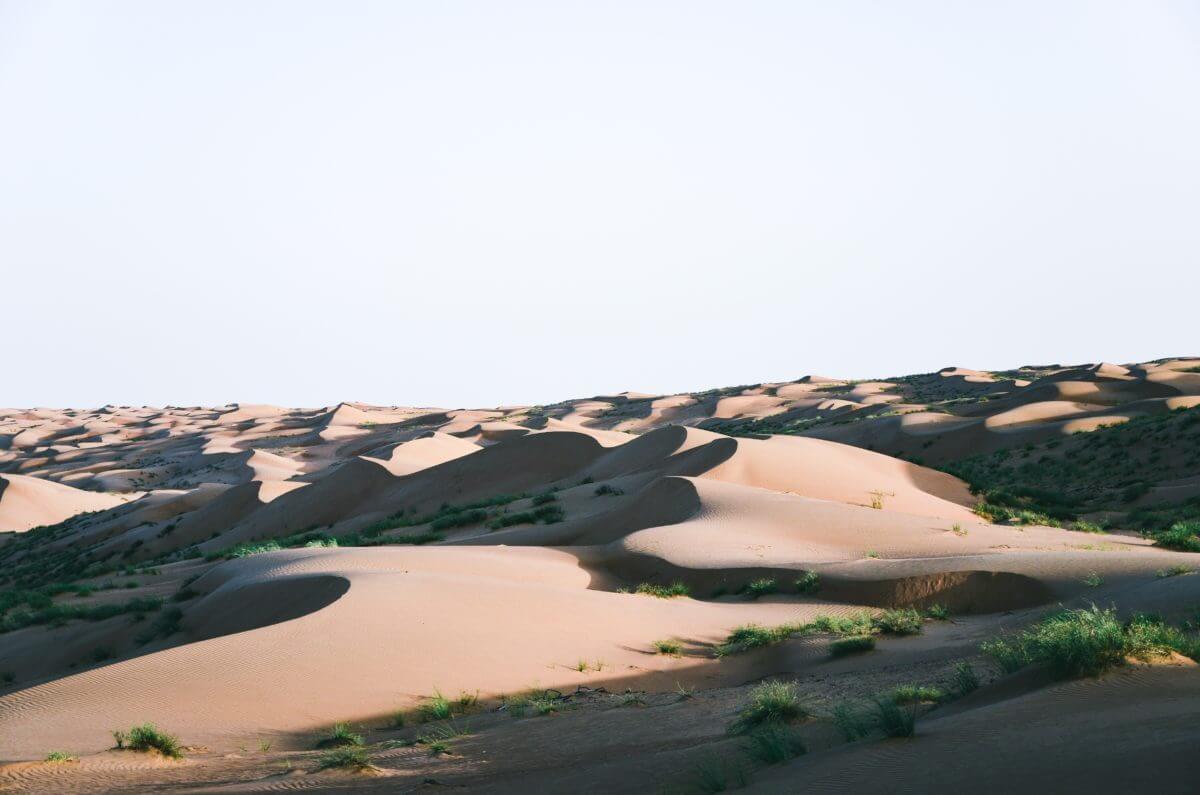 I've just come back from my first experience of touring in the Middle East. I was part of a three-hander comedy about buying and selling cars for a corporate theatre job. It was a gift of a job, full of opportunities. Here are some of my musings since I got back…
1) The Middle East is not a dangerous place. Or, more specifically, I felt perfectly safe in Jordan, Lebanon and Oman. We toured to each country for a week and had the pleasure of three full days off in Jordan, so we went to Petra (one of the wonders of the world, and deservedly so) and the Dead Sea. Sadly, the tourism has dropped significantly there, as it borders Syria, Iraq and Palestine, but you would not know it was surrounded by conflict zones at all. Our wonderful tour guide in Petra told us he is only able to work two days a week by law, due to the competition for jobs. So, if you are looking for a holiday destination – go go go! Beautiful people, weather and landscapes.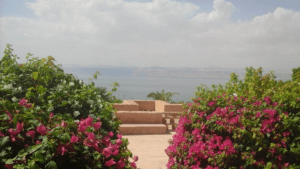 View of the Dead Sea, Jordan
2) The Middle East is more diverse than one might expect. In Oman, I would estimate half of the population to be expats – from India, China, Indonesia, America, UK, Pakistan, while a large percentage of the population of Lebanon and Jordan are now made up of refugees from Syria, Iraq and Palestine. Omanisation is happening in Oman, which means jobs are given first and foremost to Arabs in Oman, while conversely the infrastructure doesn't appear to have changed much in Lebanon and Jordan, despite the rising population. There were large Armenian communities in Lebanon and Jordan, too.
3) The Middle East is veggie friendly. Being half Moroccan, I have been used to the responses of "But it's Friday!" or "have chicken!" when I say I am vegetarian. This is partly because the Arabic word for meat translates as "red meat" so I often qualify it with "I don't eat meat, chicken or fish" and also because Friday is a holy day! Nevertheless, I had plenty to eat in all three countries (in fact – too much to eat at times. I did give myself a talking to after the first few days of an 'all you can eat' breakfast in a 5* hotel as there was a severe danger of coming back obese. I still ate everything – just spread out over the month instead of in one sitting!) However, Oman Air have a lot to answer for – their veggie options were just puddings which made the eight-hour flight rather stressful!
4) The Middle East audiences love a woman onstage. The show has run in a broad form for four years now, with tweaks and updates to reflect the current climate, but this was the first time the company wrote female characters into the script. Suffice to say, it went down a storm. I played a saleswoman in Lebanon and Jordan, and a customer in Oman – both of which are everyday realities in those countries. The show challenged gender stereotypes and both men and women watching in the audience appreciated this, particularly as a lot of the action was familiar. I also loved learning that, in Petra, the Nabataeans kings and queens ruled equally, both of them were on the coins and women owned businesses. This may have explained why they were such successful traders, and wealthy – whenever a neighbouring country tried to declare war, they would send presents to its royal family, and they deliberately incorporated all types of architecture into the city within a rock – Ottoman, Greek and Roman, so that all visitors would feel at home when they were inside it.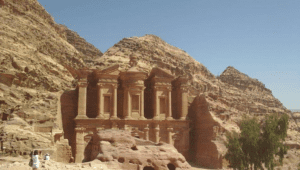 Monastery in Petra, an 850 step climb!
5) "The Middle East" is a broad term for dozens of very different countries. In Oman, I ate Indian food for breakfast and bought frankincense in the souks. In Lebanon, I went to trendy French bars, indoor classical music concerts and outdoor cabaret-gig-festival events. In Jordan, I covered myself in mud, floated in the Dead Sea and climbed 850m up to a monastery. Each country has its unique set of politics, history and heritage. My costume also changed depending on which country we were performing in – smart suit and hijab for Jordan, party dress and heavy make-up for Lebanon, colourful hijab and floaty clothes for Oman.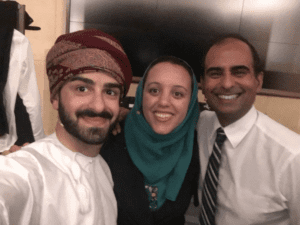 A backstage cast selfie in Oman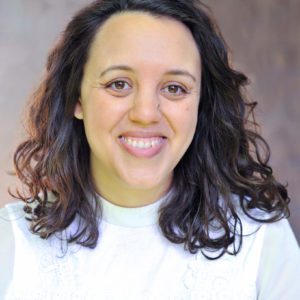 Mouthy blogger
Nadia works as an actress. She also teaches acting and storytelling to adults at City Academy and is an associate for National Youth Theatre, directing young people and leading inclusivity training.