Is being a closet hoarder driving you mad? This is why it's time to let go
Finally, the day has come. I can do this. I will do this. I will sort out my clothes.
Pile 1 aka Faves: keep in wardrobe, wear often.
Pile 2 aka Keep: store under the bed, wear sometimes.
Pile 3 aka Sell: make presentable, take photos, sell online.
Pile 4 aka Charity: put in a bag, take to Oxfam.
Pile 5 aka Bin: just put in a bin.
This is hard. Perhaps unsurprisingly the majority of my clothes immediately end up on Keep, defeating the purpose of this whole exercise. No, I need to be strong. I need to learn to let them go.
There is a small section of my wardrobe that has been categorised under Sell for the past few years without me having taken any significant steps towards actually selling anything. They are all nice items that I have chosen not to wear for various reasons – sometimes it's the fit, sometimes I have just changed my mind and it was too late to return it (see my previous post on the importance of keeping on top of your shopping). Some of these things still have labels attached.
My Keep pile is too large. This requires some tough decisions.
I am hesitant what to include in Charity. Yes, I can give clothes to a charity, but I do hope they don't want tights, underwear and tops with holes in them. If I'm in doubt, the boyfriend joins in with 'why would anyone want that?'
And what should I keep for Sell? The truth is, with some of the plainer items, I can't really see them justifying the postage costs. That's one important thing I have learnt from friends who have sold things online – make sure you don't end up paying for getting rid of something, especially if there are listing fees.
'Why would anyone want to wear your old tights?' My boyfriend helpfully asks.
Next step is taking photos of all the items on the Sell pile. Do I wear them and pose? Some of these are now actually too small for me. Lay them flat on the bed? But that looks a bit… flat. Maybe I should get one of these plastic mannequins? I say that to the boyfriend. He says: 'Where would you put the mannequin? The point is to get rid of stuff.' He might be right. He sometimes is.
I go for a mix – wearing some things (that fit), some on hangers, some flat, depending on the cut. I look through the photos, quite pleased with my progress. And realise I am yet to decide where to sell them. Yes, eBay is an obvious choice. But it also lacks focus with lots of nutters selling all sorts of things. Says the girl whose eBay order history includes gig tickets, vintage necklaces, Lego, novelty T-shirts, a laptop, and a Micro Machine of an Aston Martin.
There are a lot of nutters on eBay, aren't there?
As a buyer, I am partial to Vestiaire Collective, the luxury fashion resale site. Sellers there do list items from the likes of Topshop and Urban Outfitters, but seeing all those second-hand £9,000 Birkin bags still make me feel like that idiot who showed up to a cocktail party in ripped jeans.
Vinted is a site for the Instagram generation, with easy how-to guides on everything from taking the most appealing photos to communicating with potential buyers. But it also has a forum where members can address random topics, such as 'Boyfriend says dancing with other girls isn't bad?' and 'Still on my honeymoon!*'
I still don't know what to do with my clothes. I think I might just toss a coin.
*Helen is judgemental towards others because she hasn't poured out her heart to strangers on the internet since 2001. (Until now).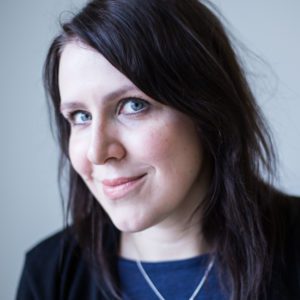 Mouthy Blogger
Would you like to know how to dress like a catwalk model for one millionth of the price? Talk to Helen.