Wedding budget wonders: cutting the cost of your centrepieces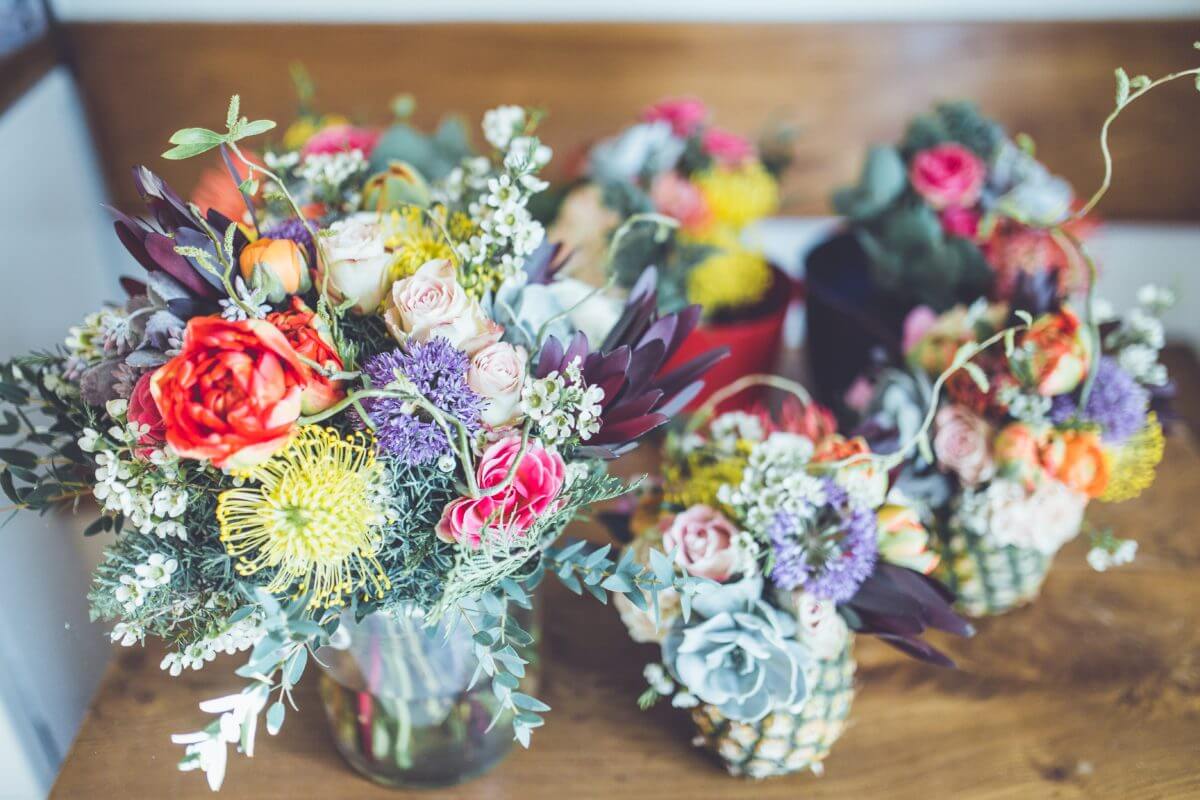 Like with literally everything else, as soon as you put the word 'wedding' with 'flowers', all of a sudden you're forking out hundreds (if not thousands) of pounds for centrepieces that you're going to use for one day. Flowers are something I enjoy having in the house, but they're not something that I'm all that bothered about. There's nothing wrong with a £2 bunch of Lidl or Aldi carnations, in my opinion! If flowers aren't something that you're crazy about either, it really doesn't make sense to spend silly money on them simply because they're traditional. For us, it was one of the smallest pots in our budget, but that doesn't mean we went without – we were just inventive with the money we had.
There are so many centrepiece options that can cost a fraction of the price you'd pay at a florist. I'd recommend having a look at all the ideas on Pinterest before tackling this section – that way you know exactly what you need and how much it's going to cost you. We decided to go with jars of flowers, keeping the wedding relaxed with this handmade touch – plus, we didn't need as many flowers as we would have to fill a big vase. You can, of course, buy glass milk bottles or mason jars to use, but for the really thrifty ones among you, get washing out any sauce/pickles/jam jars. Depending on how much time you have to do this in, you may need help from friends and family to collect the jars to ensure you have enough. When preparing them, you can keep the jars clear, wrap them with ribbon or string, or spray/paint them to fit in better with your theme.
For us, wedding flowers was one of the smallest pots in our budget, but we made it work by being inventive with the money we had.
When it comes to getting the flowers, either head to your local supermarket a day or two before the wedding or, even better, get up super early and head to your local florists market to grab a bargain. Either pick a flower you like and get different colours for a simple elegant look, or mix up your flower species in a small, controlled colour palette for more of a wildflower boho look. If you don't fancy turning your hand to floristry, then consider other pre-made options like potted orchids. Or, if you're following the Pantone Of The Year for your colour scheme, you could pick lots of varying succulents and build them up on wooden blocks for a real modern Instagram-worthy wedding look! Plus, with succulents, you don't have to worry about them drooping on your big day, you can take them home and keep them after the wedding, and they pretty much work for any season!
If you are still precious about having flowers as a part of your centrepieces but don't feel super confident about putting them together yourself, you could give dried flowers a go. They can give your day a really romantic whimsical feel and, again, they're not going to start to droop on your wedding day – that's one less thing to worry about! Not only do dried flowers cost a fraction of what fresh flowers do, but you can practise arranging them until you're happy with the finished look. You can even buy them bit by bit so you're not overspending on flowers that you're not going to use.

Twenty-Something newly wed, design lead, blogger, & bunny mama of two. Eating, tweeting & instagramming my way around Manchester.